Brookline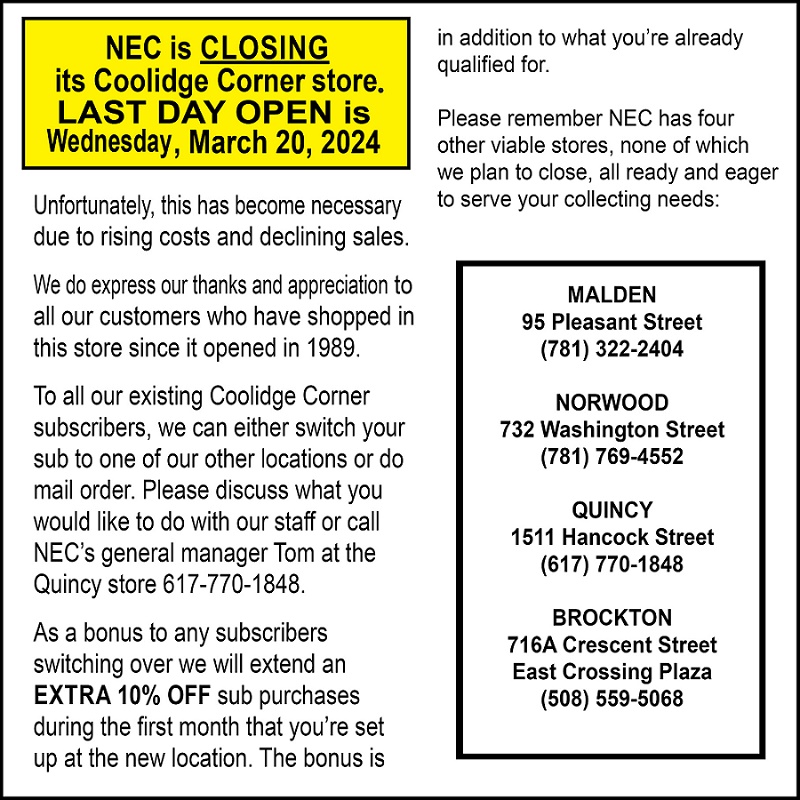 | Store | Hours |
| --- | --- |
| Monday | Closed |
| Tuesday | 12:00-6:00 |
| Wednesday | 11:00-7:00 |
| Thursday | 12:00-6:00 |
| Friday | 12:00-6:00 |
| Saturday | 10:00-6:00 |
| Sunday | 12:00-5:00 |
NEWS AND HAPPENINGS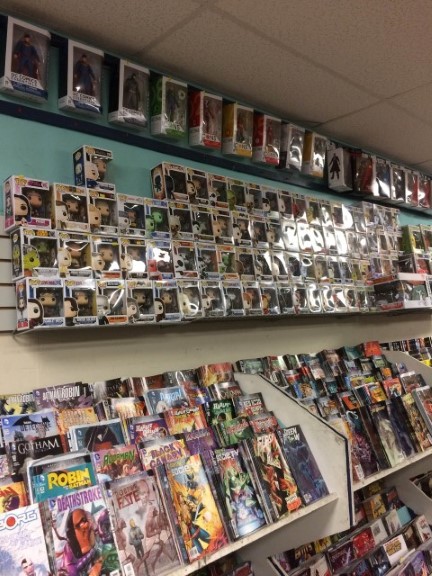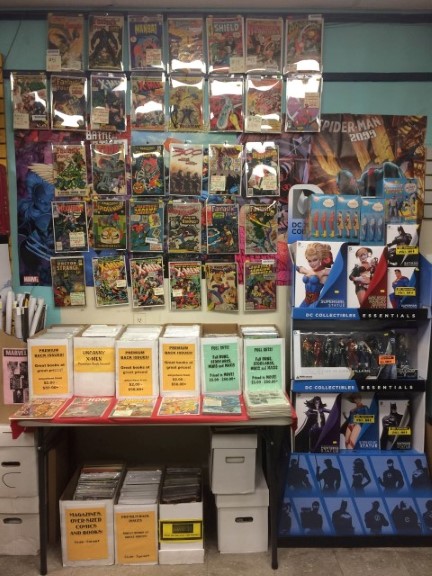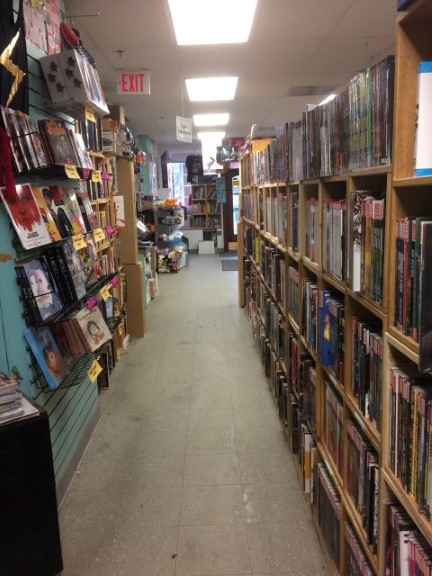 PLEASE VISIT NEC in COOLIDGE CORNER, Brookline!
WE ARE NOW CARRYING SINGLE CARDS FOR MAGIC: THE GATHERING!
Come in right now and check out or great selection of trades and graphic novels!
SOME AS MUCH AS 75%OFF and $3.99
ALL BRAND NEW AND AWESOME!
ABOUT THIS STORE
Located in the center of bustling Coolidge Corner in Brookline, MA, this location of NEC sports a wide variety of cool stuff from traditional superhero comics, toys, comic supplies and MANGA.
Along with our selection of great kids books we have an entire wall of Graphic novels and trade paperbacks for EVERYONE ELSE! A large selection of Independent and Small press books compliment a plethora of Superhero trades from Marvel, DC, Image and Vertigo comics. An entire wall of books wait to greet you and go home with a loving reader!
So come on by, say hello and check out our lil place in Brookline. Pick up comic supplies and top of the line CCG and TCG like Pokemon, Magic the Gathering and Yu Gi OH!
We will be glad to help you out and find just what you need to make you happy! and if we don't have it we WILL GET IT FOR YOU!
HOW TO FIND US
Touch for GPS directions
Located just one mile south of our Allston store we're at 316 Harvard St. in Brookline. From route Nine follow the signs for Washington street but bear right at the top of the first hill on Washington. That puts you on Harvard we're on the left after the railroad tracks. There's a metered parking lot behind the building.
From the Mass Pike go as you would to Allston but continue for about a mile more. We're on the right. By T take the Green Line 'C' Train to the Coolidge Corner stop. We're just beyond the Coolidge Corner Theatre Marquee.
By BUS - we're a stop on the #66 route.