Brockton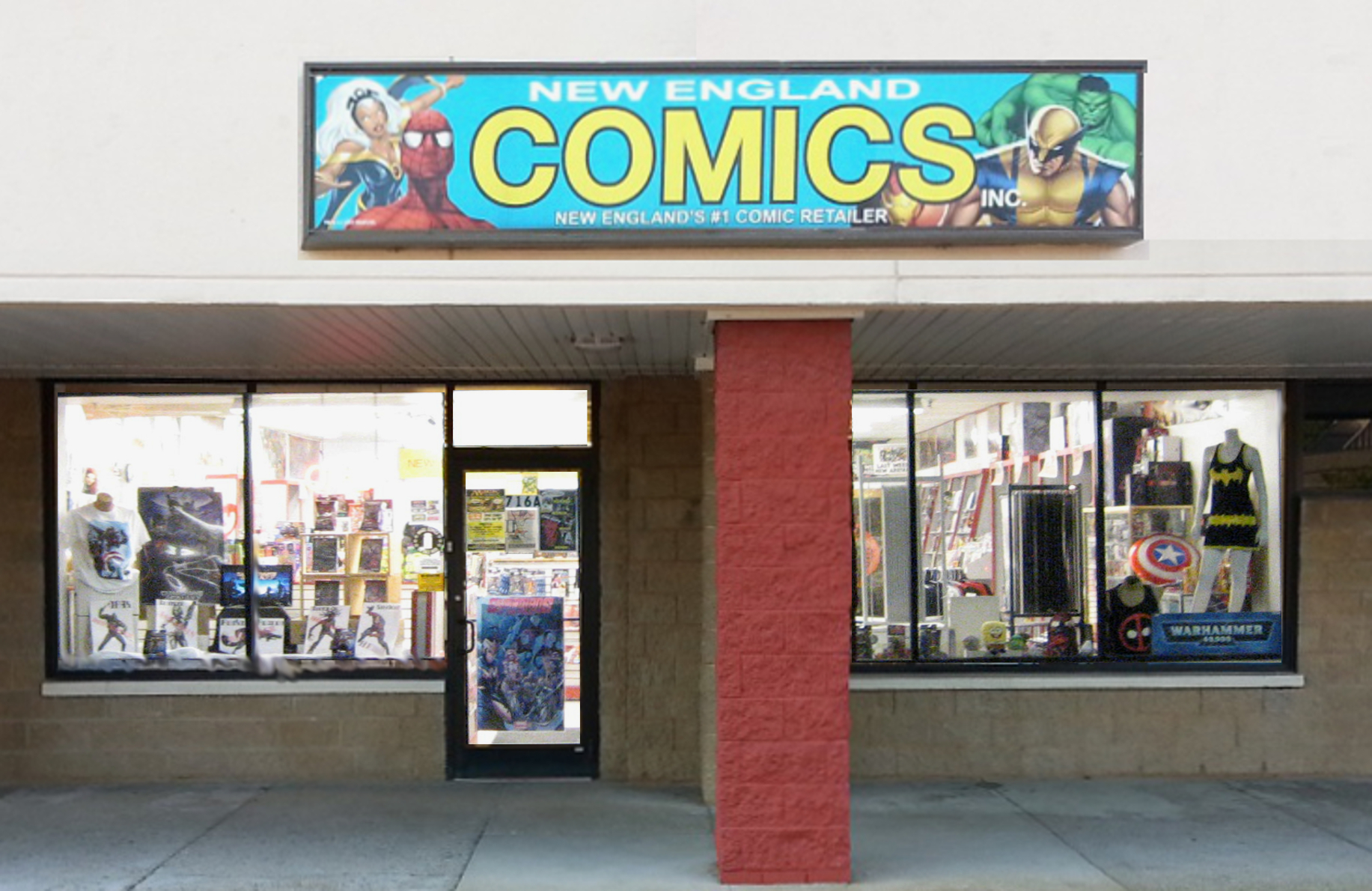 | Store | Hours |
| --- | --- |
| Monday | 12:00-5:00 |
| Tuesday | 12:00-6:00 |
| Wednesday | 12:00-8:00 |
| Thursday | 12:00-7:00 |
| Friday | 12:00-7:00 |
| Saturday | 10:00-7:00 |
| Sunday | 12:00-5:00 |
ABOUT THIS STORE
COMIC CENTER OF THE UNIVERSE: NEC Brockton is a full line retailer of all the hottest and most popular comics from DC, Marvel, Image, IDW, Dark Horse, Dynamite, Boom Studios, Viz Media and every other publisher from across the comic industry.
TOYS!: With our mammoth amount of space NEC Brockton is always packed with the coolest collectible toys.
TRADES!: The best selection in the south coast area for Trade Paperbacks, Graphic Novels, and Manga.
KIDS COMICS GALORE! We have a vast array of comics just for kids!
SUPPLIES!: Full line of comic collecting supplies. Comic bags, boards, boxes, archival plastic sleeves, plastic title dividers, and card supplies.
DID SOMEONE SAY GAMES?: Never to be outdone, NEC BROCKTON always carries the latest in Pokemon, Yu-Gi-Oh, Magic The Gathering, and the ever popular Heroclix game.
GOOD - N- CHEAP: With the huge amount of floor space NEC Brockton wields a mammoth array of over 50+ long boxes of $1.00 comics.
LAND OF THE RISING SUN: We are one of the few local retailers that stock Manga!
Gift Certificates: Not sure what to get for that special someone? Well we provide Gift Certificates year round to help satisfy your gift giving needs.
New NEC Brockton has something for just about everyone! Stop in shop and witness the comic grandness that is NEC Brockton. We think you're going to love it. New England Comics Brockton your comic retailer for the 21st century!
HOW TO FIND US
Touch for GPS directions
We are located in accessible East Crossing Plaza 716A Crescent St
Directions coming from Southeast MA.:
Take MA-140 N toward TAUNTON/BOSTON.
Merge onto MA-24 N via EXIT 12N toward BOSTON.
Take the RT-123 E exit- EXIT 17A- toward BROCKTON.
Stay STRAIGHT to go onto BELMONT ST/MA-123 N. Continue to follow MA-123 N.
Turn RIGHT onto CRESCENT ST/MA-123. Continue to follow CRESCENT ST. -End at 716A Crescent St Brockton, MA 02302-3343, US
Directions coming from North MA.:
Take MA-62/LOWELL RD. Continue to follow MA-62.
Merge onto I-93 S via the ramp on the LEFT toward BOSTON.
Merge onto MA-24 S via EXIT 4 on the LEFT toward BROCKTON.
Merge onto MA-27 S via EXIT 18A toward BROCKTON.
Turn RIGHT onto MONTELLO ST/MA-27/MA-28.
Turn LEFT onto CRESCENT ST/MA-27 E.
End at 716A Crescent St Brockton, MA 02302-3343, US
Directions coming from Mid-Western MA.:
Take MA-122A.
Turn SLIGHT RIGHT onto PROVIDENCE ST/MA-122A. Continue to follow MA-122A.
Take the RT-146 S ramp toward I-90/MILLBURY/MASS PIKE/PROVIDENCE RI.
Turn SLIGHT RIGHT onto MA-146 S/MA-122A S.
Merge onto US-20/SOUTHWEST CUTOFF toward US-20/BOSTON/I-90/SPRINGFIELD/MASS PIKE.
Merge onto I-90 E/MASS PIKE/MASSACHUSETTS TURNPIKE via the ramp on the LEFT toward BOSTON (Portions toll).
Merge onto I-95 S/MA-128 S via EXIT 14 toward SOUTH SHORE/CAPE COD.
Merge onto I-93 N/US-1 N via EXIT 12 on the LEFT toward BRAINTREE/BOSTON.
Merge onto MA-24 S via EXIT 4 toward BROCKTON/FALL RIVER.
Merge onto MA-27 S via EXIT 18A toward BROCKTON.
Turn RIGHT onto MONTELLO ST/MA-27/MA-28.
Turn LEFT onto CRESCENT ST/MA-27 E.
End at 716A Crescent St Brockton, MA 02302-3343, US