NEWENGLAND COMICS INC
SAVE $$ with NEC'S COMIC-CA$H program!
NEC IS HIRING!
Brookline, Malden, Brockton, Quincy & Norwood.
Application form available in every store.
NEC IS AN EQUAL OPPORTUNITY EMPLOYER
Join NEC's E-Mailing List!
Subscribe and receive our weekly New Arrivals email and advance notices of sales and other special events.
GAMING events too!
We NEVER share our mailing list!
(To Unsubscribe see link at bottom of our email.)
STORE GAME NEWS! TAP for more info!
Save every day with NEC's 10/15% OFF "Every Day" graphic novel discounts!
> includes new arrivals & special orders <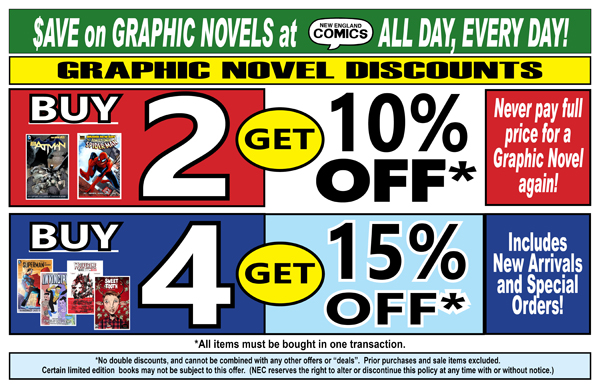 *All items must be purchased in a single transaction. No double discounts and cannot be combined with any other offers or "deals." Prior purchases and sale items excluded. Certain limited edition books may not be eligible for this offer. NEC reserves the right to alter or discontinue this policy at any time with or without notice.

Your comics pulled for you first thing on New Arrival Wednesday. Never any charge for the service, of course.
EARN \(CASH\) BACK with NEC's new
COMIC-CA$H CARD program!
Cash can be used to buy ANYTHING, including New Arrivals!
TAP image below for complete info.