News
NEC IS BUYING COMIC-RELATED BOOKS! Trade paperbacks, Hardcovers & Graphic Novels!
TAP HERE for more info!
YES, WE BUY OLD COMICS!
YES, WE BUY "PRE-OWNED"
TRADE PAPERBACKS & GRAPHIC NOVELS!
TO SELL YOUR COLLECTION, CONTACT ANY NEC STORE TO MAKE ARRANGEMENTS!
NEC is always looking to buy old comics. We are mainly looking for comics from the 1960's to 1970's and OLDER. 1960's comics will have 12-cent cover prices and 1970's will range from 20-35-cent cover price. Most comics from the 1990's to present may not be needed unless it's a key or major first issue.

Old "Super-hero" comics will get the highest prices with Marvels topping DC's but we will also consider other comic genres. Golden Age (1940's) will get top prices regardless of the publisher or genre! If you have a few comics or a large collection to sell call your local NEC store or our main comic buyer Tom at 617-770-1848. Note that NEC reserves the right to decline to purchase comics offered to us at our sole discretion.
QUINCY STORE NEWS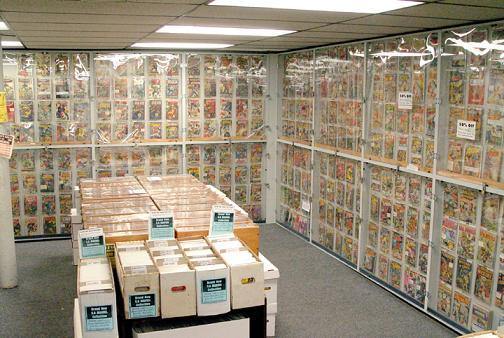 Exclusive to the QUINCY STORE, the Silver/Gold Room is devoted to vintage older comics from 1940's to 1970's. Inside are several thousand comics that are all OVER 30-50 YEARS OLD!
We've got your favorite Super-heroes from BATMAN to X-MEN PLUS original old ARCHIEs from the 1950's & 60's as well as obscure hard to find ROMANCE and TV/MOVIE related comics.